"You see thru, that is why no one is going to believe you."
Virtues: honor, respect | Quote by Jadakiss, 1997 'All about the Benjamins' | www.vacantlot.org

What is there to say about the 'fake' individual? Always putting up a front, a facade, trying to be something that they are not. Some do it as apart of their occupation, others do it hide their true self so that they can 'fit-in' with a crowd; this is very evident in hip-hop culture. As many dudes will try very hard to be 'hardcore', but in their attempt to be hard, it is evident that they have no substance inside, and that they will do anything in order to achieve their goal. Their goal may be simply to impress you, but more often than not, it will be probably be a goal that is intended to hustle you out of your possessions.

However, the quote is almost objective in the sense that not only does the 'see thru' aspect can be a negative connotation, but it can also be somewhat positive, or just explain a person's motives. Its like, nah they are not doing what they say, because we can see their motives and see their true objections.

So call them the 'translucent' hustler, the transparent gangsta, or the clearview opportunist, but these are a list of some of the infamous/famous 'see thru' males & females:



Cam'ron
"I front like I got money"

After the Youtube clip of Cam'ron showing-off his pool in a beef video to 50 Cent, it became apparent that Cam'ron really doesn't have the paper that he claims in his raps. Come on Cam, that pool was tiny, looked like a pool the average family in the burbs has.




Soulja Boy
"Gimmick Boy"

Soulja Boy is the poster child of the new era in rap where artists need to have a catchy dance with a song release. This gimmick really takes away from any lyrics an artist may have - Soulja Boy is the lucky one of this bunch because he has become somewhat successful for having an infections/catchy dance, but there is no substance in any of his lyrics.




Karrine 'Superhead' Steffans
The Opportunist

We all know what Superhead has done, and to whom, but her tell-all book where she name drops on her relationships is an exercise in opportunistic behavior. I mean, it must be somewhat self-demoralizing to live with the fact that all these men are calling you all sorts of names, and that you have a moniker such as 'superhead', and to go and try to monetize off of your exploits shows that you are a straight opportunist - even if it means throwing more shit already on your shitty name. But hey, get your money girl, and get a STD test.




Jay-Z
Never Quit

Jay-Z was supposed to retire a couple of years ago, but after the release of the acclaimed American Gangster (2007), and another release in 2008, and word that he may be working on an album with former foe turned friend Nas, it is clear that Jay-Z will never quit; the game is in him.




Vanilla Ice
Soul-less

Vanilla Ice is one of the classic jokes of hip-hop, pop culture - as he was known as the white guy that exploited the music to make a buck. No one believed him, he had no credibility, and in the end, a real gangster saw thru Vanilla and took his publishing ... ice, ice baby.





Suge Knight
Untrustworthy

This was the real gangster from the Vanilla Ice post. This is the kind of guy that you don't trust; he has been involved/implicated with the deaths of Tupac Shakur, Biggie Smalls and countless other ordeals. Many of said that anyone can see that looking at Mr. Knight, not much 'good' is there.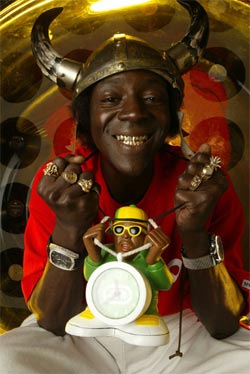 Flavor Flav
Coon

Self-explanatory, have you seen Flavor of Love 1-3?
Enough said.


.:: Vacant Lot


Labels: honor, respect, self-respect